residential Construction Solutions
"We are your partner"
Bellamy Construction has provided homeowners with residential site development and improvements for over 40 years. Our experienced staff, latest laser, and GPS equipment, along with our excavating, trucking and material resources, will complete your project on time and within your budget.

Out of water? Sewer backed up?
Trust the experts at Bellamy construction to provide you with resolve for your water or sewer service needs. We work directly with the utility owners to gather all the information needed for your repairs or replacements, provide you with a timely quote, execute the work in a professional, respectful manner and get your services operable again. Rest assured when you call Bellamy Construction we understand the anxieties involved with loss of services, Our job is to get your life back to "business as usual".
Wet basement? Saturated lawn? 
We have a solution for that. 
At Bellamy Construction we understand the frustration that comes along with managing stormwater. Whether it is a pre-existing condition or due to changes in the surrounding community, mitigation of stormwater can be challenging. The first thing to do, call Bellamy Construction. Together we can assess the situation, develop a plan, and provide you with a clear and detailed quote. When you chose Bellamy Construction to perform the work you're on your way to becoming another satisfied customer.
Horizontal Directional Drilling
don't tear it up. go under it.
Ask how: (518) 214-4082
Our directional drilling division has provided trenchless solutions since the technology was introduced in the 1990s, residential, commercial, and civil. Our highly skilled team of horizontal directional drilling and boring specialists are experts in providing solutions for underground installation and repair of pipelines and cables with minimal excavation. With more than 100 years of combined on-site experience, industry leading equipment, and continuous education on drilling and excavation techniques, Bellamy Construction's Trenchless Technology division has a proven track record of helping general contractors, municipalities, utility companies, and homeowners. Our methods are cost-effective, even in the most challenging circumstances, anywhere in the Northeast.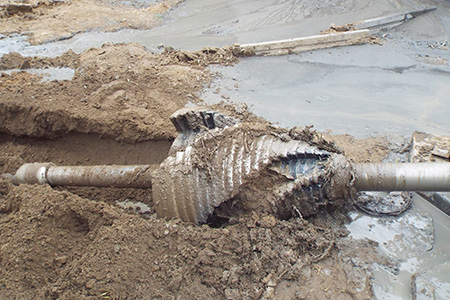 What it is
A no-dig technology that allows us to make trenchless installations of underground utility lines or to replace existing ones without large-scale excavation. The most popular applications include pipe for natural gas or water lines & services, and duct and conduit for telecomunications and power cables.
Who uses it
Contractors. Utility Companies. Public Works Departments. They are all turning to horizontal directional drilling (HDD) as their preferred method of installation or replacement. Reasons include cost-effectiveness, minimization of surface damage, low disruption to traffic or other activities, and environmental friendliness.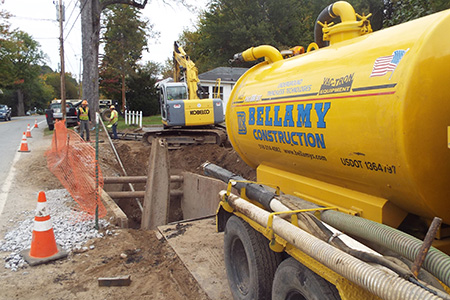 Where it's used
Almost anywhere that surface conditions make it harder and more expensive to operate traditional trenching machinery like backhoes or excavators. This includes tunneling under streets and buildings, under landscaped areas and rivers, or under parking lots and highways among so many other applications.
Building a new home or tailoring an existing property to fit your needs, Bellamy construction is your one-stop-shop for all the utility and earthwork. From the clearing of trees and shrubs to the grading of land, from foundations to water, sewer, electric, and everything in between let our teams get your project out of the ground with the professional results and keep your project on schedule.
Don't forget Bellamy Construction for all of your trucking needs. Maybe it's several loads of stone for the driveway, or a load of topsoil from our quality stockpile, let us get this one off your check list.
"Now that the 4th golf hole on Closson Road is complete, this email is being sent to COMPLIMENT the work crew involved. They worked long and hard to complete the new system and did a remarkable job from beginning to end. Robert, Ross, Brian, and Paul have my highest admiration for their dedication and making the Bellamy Construction tradition come true. Please extend my sincere appreciation for "a job well done" and a military "attaboy." My decision to go with Bellamys was a wise choice due to their fine work ethic. Thank you and I hope the new homeowners appreciate their new septic system."
"I can't say enough good things about the men who came to fix my sewer line. They actually made a fairly stressful situation pleasant. They were very polite, pleasant, helpful and cooperative with me as well as with each other. They answered all my questions and tried to meet all my requests/concerns. They worked together very well to find the problem and the solutions for the problem. I was also very impressed with the care they took when they had to dig up some of my plants. They dug them up very carefully and put them back carefully so as to give them the best chance of living. Thank God, they are still alive and seem to be doing just fine. They worked straight through till the work was accomplished, put everything away, cleaned everything up, etc. Really truly, they actually made it a pleasant experience. I would not hesitate to recommend Bellamy to anyone in the future, especially this. crew. Thank you again so much for such good work. "
A. Guarino
"On behalf of the Schenectady Municipal Housing Authority and all of the children who are enjoying the new playground at Steinmetz Homes, I would like to personally thank you for volunteering your services by providing the much needed site preparation. Your team did amazing work!
Thanks to the generosity of business like yours, we were able to build a full service playground in a single day. When you drive by the playground on Henry Street and see the kids enjoying a safe place to play, please take pride in the fact that you were a big part of the team that made this a reality."
R. Homenick
Our process is once we receive a contact whether it is by phone or email your information is recorded and an estimating order is created. You may be contacted to collect other information we feel is pertinent to understand the project requirements. The project will then be qualified by our staff and either accepted or refused based on the scope of work, location, schedule, etc. Once accepted we will create a schedule for submitting a quote. All estimates are conducted in the order that they have been received. Be sure to allow ample time as backlog is typical during peak seasons.
Which of these best describes what type of service you're looking for? Choose all that apply: