COMMERCIAL CONSTRUCTION SOLUTIONS
"We are your partner"
Bellamy Construction provides both general contract and subcontract services. Prevailing wage and private wage project with bonding compatibilities to ensure the results are as expected. You can typically find us throughout the Capital Region, the North Country, and the Hudson Valley. We entertain all project sizes and locations in New York State and adjoining states.
Trenchless
Site Development
Hauling
Trenchless Technologies
don't tear it up. go under it.
Ask us how: 518.214.4082
You can rely on Bellamy Construction's Trenchless Technology division, "The teams you can trust" with more than 100 years of combined on-site experience, industry leading equipment, and continuous education on drilling techniques and methods, Bellamy Construction's Trenchless Technology division has a proven track record of providing general contractors, municipalities, and utility companies with a safe, reliable, professional installations. Let us take the guess work out of your next trenchless project.
Directional Drilling
Pipe Bursting
Water
Sanitary
Storm Water
Conduit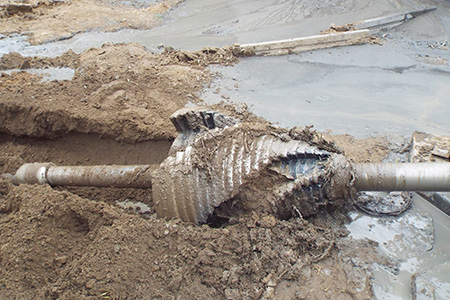 What it is
A no-dig technology that allows us to make trenchless installations of underground utility lines or to replace existing ones without large-scale excavation. The most popular applications include pipe for natural gas or water lines & services, and duct and conduit for telecomunications and power cables.
Who uses it
Contractors. Utility Companies. Public Works Departments. They are all turning to horizontal directional drilling (HDD) as their preferred method of installation or replacement. Reasons include cost-effectiveness, minimization of surface damage, low disruption to traffic or other activities, and environmental friendliness.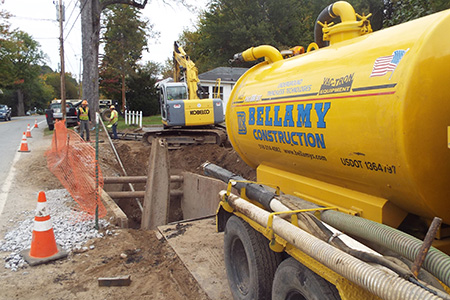 Where it's used
Almost anywhere that surface conditions make it harder and more expensive to operate traditional trenching machinery like backhoes or excavators. This includes tunneling under streets and buildings, under landscaped areas and rivers, or under parking lots and highways among so many other applications.
Whether is trenchless or traditional installations, utility or excavation, remember our motto, "Everything for underground". So if it's a small diameter conduit, a deep excavation for a pump station, spread footing foundations, or an entire site development, we do that.
Need trucking services within the Capital Region of Upstate New York? Let our fleet of triaxle trucks and tractor-trailers help you out. We are available 24/7 for your hauling needs..