Commercial Site Work
From the sill plate down - we do that too
RESIDENTIAL
Bellamy Construction has provided homeowners with residential site development and improvements for over 40 years. Our experienced staff, latest laser and GPS equipment, along with our excavating, trucking and material resources, will complete your project on time and within your budget.
Concrete
Foundations
Hauling
Septic/Sewer Systems
Water Lines
All Site Work
COMMERCIAL
Bellamy Construction handles jobs of all sizes – big, medium, or small we do it all. Over the past 40 years of business we have successfully completed large scale civil engineering construction projects, for municipalities and private entities alike, again, on time, and within budget. Commercial:
Concrete
Foundations
Hauling
Septic/Sewer Systems
Water Lines
All Site Work
Bellamy Construction is one of the leading sitework development contractors serving the New York State Capital Regio. As a full service commercial sitework developer we provide everything including sediment/erosion control, land clearing, excavation, grading, earthwork, storm drainage, and city sewer/water connections. Bellamy Construction takes a hands-on approach to your site work project. We will work closely with you throughout the project to produce the best possible results and values. Our skilled team ensures that your site plans become a reality with total accuracy and efficiency.
During the construction process we prevent wind and water on the building site and adjacent areas to prevent water pollution, habitat damage or loss and soil loss.
Land clearing entails removing trees, stumps, debris, and underbrush from the building site to transform the land into a workable building site. Our expert land excavators carefully go over the site and prepare it for construction specifications.
Excavation involves the removal of the exposed layer of the earth's surface, including any vegetation or decaying matter which could make the soil compressible and therefore unsuitable for bearing structural loads.
Grading ensures the building site will have a level base or specified slope according to specifications.
We shape, move, remove, process, or bring in soil to prepare the building site for construction. We are experiences in earth work for all types of commercial building projects and will expertly reconfigure and stabilize the topography of the site to specifications.
Storm drains carry excess rain and ground water from streets, parking lots, sidewalks, and buildings to municipal systems and catch basins. Proper storm drainage is critical to prevent flooding and excess water build up from heavy rains.
City Sewer/Water Connections
We provide city sewer and water connections to ensure and protect water quality, deliver sufficient hot and cold water, remove waste efficiently, and provide easy access for future maintenance and repairs.

Horizontal Directional Drilling
don't tear it up. go under it.
Ask how: (518) 214-4082
Our directional drilling division has provided trenchless solutions since the technology was introduced in the 1990s, residential, commercial, and civil. Our highly skilled team of horizontal directional drilling and boring specialists are experts in providing solutions for underground installation and repair of pipelines and cables with minimal excavation. With more than 100 years of combined on-site experience, industry leading equipment, and continuous education on drilling and excavation techniques, Bellamy Construction's Trenchless Technology division has a proven track record of helping general contractors, municipalities, utility companies, and homeowners. Our methods are cost-effective, even in the most challenging circumstances, anywhere in the Northeast.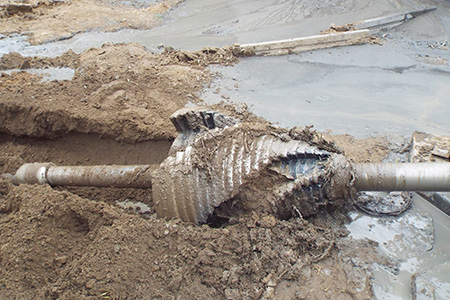 What it is
A no-dig technology that allows us to make trenchless installations of underground utility lines or to replace existing ones without large-scale excavation. The most popular applications include pipe for natural gas or water lines & services, and duct and conduit for telecomunications and power cables.
Who uses it
Contractors. Utility Companies. Public Works Departments. They are all turning to horizontal directional drilling (HDD) as their preferred method of installation or replacement. Reasons include cost-effectiveness, minimization of surface damage, low disruption to traffic or other activities, and environmental friendliness.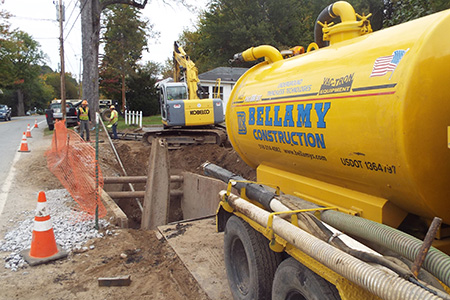 Where it's used
Almost anywhere that surface conditions make it harder and more expensive to operate traditional trenching machinery like backhoes or excavators. This includes tunneling under streets and buildings, under landscaped areas and rivers, or under parking lots and highways among so many other applications.